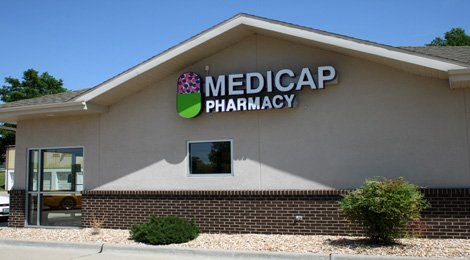 At Medicap Pharmacy®, we're committed to the idea that quality pharmacy care means more than just prompt prescriptions. To us, quality care means that you get the prescriptions and medications you need, along with the care and attention you deserve.
Our pharmacy is dedicated to the wellbeing of your family and the wellbeing of the community. That's why we offer services such as immunizations, medication therapy management, multi-dose packaging, medication synchronization, important health screenings, and expert care*. We strive to make it convenient for you and the people you care about to live a healthy life. Think of us as your community healthcare destination.
*At participating Medicap pharmacies
Eric Daume, Pharm.D Pharmacist
My name is Eric Daume and Southeast Missouri has always been my home. After graduating from Cape Central, I moved to Kansas City where I completed my Doctor of Pharmacy education in 2008. I honestly never thought I would call Southeast Missouri home again, but something pulled me back here. That's a decision I will never regret.
I started my pharmacy career locally at Walgreens and Target where I had the opportunity to meet many great people. For about 8 years, I worked in sterile compounding and specialty pharmacy. There I developed a special interest in compounding customized and targeted medication, and worked with the latest developments in the pharmaceutical industry. Medicap/MediCenter is now my home where I plan to continue my interest and dedication to serving the communities in Southeast Missouri. I believe your trip to the pharmacy is not just a stop on your way home, but rather a healthcare experience and destination that is designed and customized just for you by the pharmacists and staff inside.
I live in Cape with my wife Rachael, who is a nurse as Saint Francis Medical Center, son Bennett and daughter Eliana. I enjoy running with my dogs, and doing anything outside. This is my home and my community. I'm blessed and proud to serve the people in Southeast Missouri. I'm here to help be a part of your healthcare team, and navigate its complexities with you. Just ask me how I can help.